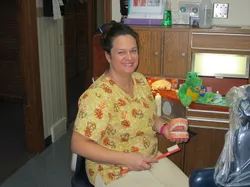 Stacy Leech, RDH - Dental Hygienist
Stacy is a licensed Dental Hygienist. She spends time educating patients, parents, and families on how to best care for their smiles, conducts preventive treatments and professional dental cleanings, periodontal treatments and maintenance, takes digital radiographs, Panorex xrays, applies Fluoride treatments, and applies dental sealants. She also assists with implementing new and current dental trends and research into the practice.
Stacy is a graduate of West Liberty State College, and holds both an Associate Degree of Science and a Bachelor of Science Degree in Dental Hygiene. She holds one of the highest honors bestowed to a Dental Hygienist, the Hu-Friedy Golden Scaler Award. Prior to earning her license to practice Dental Hygiene, Stacy was a certified Dental Assistant with experience in Assisting in specialized practices including Oral and Maxillofacial Surgery, Periodontal Surgery, Prosthetics, and General Dentistry.
Stacy is very involved with the Boy Scouts of America and her Church. She is also an avid bicycler, a member of the Mid Ohio Bikers Club, and if the weather is good, you can find her peddling the roads of Ohio.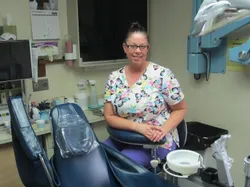 Mindy
Mindy is the office dental assistant and has worked with Dr. Leech since 1998. She primarily works chair side with Dr. Leech providing assistant functions in general dentistry, crowns, bridges, implants, dentures, teeth whitening, and cosmetic dentistry procedures. She is a licensed dental radiographer and takes digtal xrays and panorex xrays.
Karol
Karol is the front desk receptionist. She assists the practice by checking patients in, answering the phone, scheduling appointments, handling insurance, billing, accounts receivable and payable, and collections. Karol is typically the first person you talk to on the phone and you see when you walk into our dental office. At times, Karol also assists chairside with Dr Leech and is a licensed dental radiographer, taking digital xrays and Panorex.